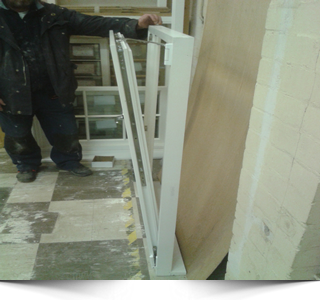 We proudly manufacture our tilt and turn windows and doors in our own factory which is currently located in Broxburn, you are welcome to pay us a visit.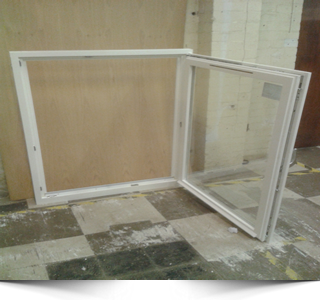 This project we manufactured tilt and turn windows using UPVC technology of double glazing & discreet draught proofing.
TILT AND TURN WINDOWS
Illingworth Brothers, custom make there own timber Tilt and Turns and manufacture to any configuration to suit the style and architecture of your home. The timber windows are easy to clean from the inside and can also be used as a fire escape option.
Tilt and turn windows provide a modern yet stylish solution and are particularly suitable to modern properties. They provide a high degree of noise reduction and very low maintenance, while providing energy efficiency and security that is needed for a family home.
Tilt and turn windows are inward opening and feature both side and bottom hanging features. The side hung feature allows the external face of the windows to be cleaned from the inside of the building and the bottom tilting function is used to provide ventilation. Tilt and turn windows can also be used to provide a safety exit. Another important feature is that they can provide secure ventilation.
WOODEN TILT AND TURN WINDOWS
Our wooden tilt and turn windows are manufactured to exacting standards at our own factory in Broxburn, near Edinburgh, using only timber sourced from sustainable forestry and using traditional manufacturing techniques. They have an "A rating" which is the highest possible energy efficiency rating.
TRADITIONAL STYLE
If your property has period features then we are able to design and manufacture your bespoke tilt and turn windows so that they appear as traditional windows. Thus they will integrate with the special period features of your home.
ALTERNATIVE CONFIGURATIONS
We can provide a number of options and we are able to provide many alternative designs. If you have any special requirements then why not speak to our experts using the phone number given below.
THE BEST SOLUTION
Many people find that tilt and turn windows are their best solution, but generally there are different approaches to replacing your windows. We also offer a free consultative service and our expert craftsmen will visit you in your home to discuss with you the various options that are available to you.
Illingworth Brothers - Tilt and Turn Windows - Worth Choosing
CALL US - 0131 623 7303
If you have any queries on any of our services, one of our experts will be happy to talk to you and can answer any of your questions.
VISIT OUR FACTORY
Why visit costly staged showrooms when you can visit our factory to see your consistent outstanding quality products being made by our careful & experienced tradesmen for yourself.
ECO FRIENDLY
All the timber that we use is sourced from "Sustainable Forestry". More trees are planted than are used. Our glass is low emissivity (Low E) argon filled keeping the heat inside and the cold outside. Using warm edge technology which offers the lowest u values in the market today.