This magnificent 100 year old glass has been lovingly encapsulated making it double glazed so that the new windows match existing.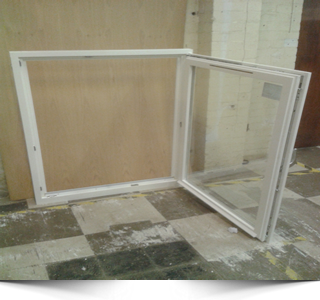 This magnificent 100 year old glass has been lovingly encapsulated making it double glazed so that the new windows match existing.
UPVC Reversible
Illingworth Brothers supply and install UPVC reversible windows in Edinburgh, Lothian and throughout Scotland.

UPVC Reversibles are the perfect solution for many styles of buildings and are an excellent answer for high rise buildings where access to the outside glazing is difficult. The clever design of UPVC reversible windows means that they open inwards, rotating by 180 degrees, allowing you to clean the external glazed surfaces from inside your room. You will never need another window cleaner. Despite this, they won't intrude into your internal space as the amount they protrude into your room is very little.
Some of their advantages include:
They are safe and child-proof. Even though they will open to provide the maximum amount of ventilation, they include child safety catches which prevent them from being opened wide so there is no chance that a child will fall through them.
Constructed from modern high tech materials, they are rigid and secure. They even include secure ventilation which means that you can keep them open during hot summer days and nights without having to worry about the possibility of intruders.
They provide a high degree of thermal insulation combined with a high level of noise reduction; a perfect solution for keeping the worst of Scottish weather out as well as the noise from busy streets.
UPVC reversible windows require virtually no maintenance apart from wiping them down with a cloth. UPVC Reversibles will never rot, distort, shrink, stretch or rust. They are available in non-fading brilliant white and will retain their appearance for many years into the future.
Available in brilliant white plus a range of alternative finishes and colours, they will look as good in ten years time as they did when they were newly installed.
If you are considering replacement UPVC windows for medium height or high rise buildings in Edinburgh or across Scotland, then our UPVC Reversibles could be your ideal solution. They will keep the warmth in, the noise out, and offer safe ventilation combined with safe easy cleaning of both the outside and internal glazing.

If you would like to discover if our UPVC Reversibles are the right solution for your home, then call us on 0131 623 7303 . Our experts are always happy to discuss your requirements.
Illingworth Brothers - UPVC Reversible Windows - Worth Choosing
CALL US - 0131 623 7303
If you have any queries on any of our services, one of our experts will be happy to talk to you and can answer any of your questions.
VISIT OUR FACTORY
Why visit costly staged showrooms when you can visit our factory to see your consistent outstanding quality products being made by our careful & experienced tradesmen for yourself.
ECO FRIENDLY
All the timber that we use is sourced from "Sustainable Forestry". More trees are planted than are used. Our glass is low emissivity (Low E) argon filled keeping the heat inside and the cold outside. Using warm edge technology which offers the lowest u values in the market today.