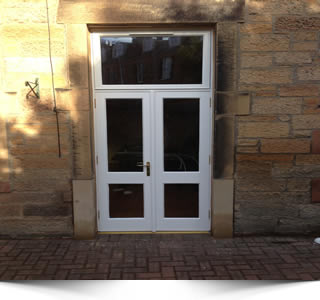 A custom built wooden white French Door which the client designed. Allowing better light into their property and keeping the house warm in the winter.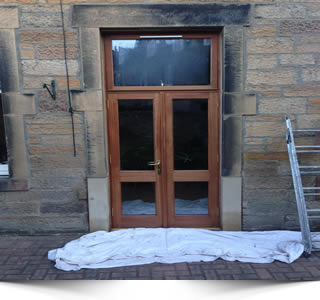 A wooden French door fitted nicely into the traditional property in Edinburgh, tailored to allow the sun light enter but also keep the property warm and draught proof.
WOODEN FRENCH DOORS
Our stylish and elegant French doors entice you into the garden and welcome you back into your home.

All our Wooden double glazed French doors will make a real difference to your home; increasing your enjoyment of it whilst increasing its value. All our French doors are custom made which will allow you to choose your own design, or match an existing style allowing natural light to flood into your home and bring you closer to the sounds, sights and scents of your garden.
COOL IN SUMMER, WARM IN WINTER
Whilst French doors are generally associated with a sunny climate, Illingworth wooden French doors are also made with the Scottish climate in mind. In the warm weather their tailored style will let you make the most of the sun and bring your garden into your room, but when the cold weather calls they will keep you snug and warm.

Our wooden double glazed French doors are designed to provide the highest levels of insulation with up to "A rating" and they are completely draught proof.
SECURITY
While some French doors that you might see don't inspire too much confidence when it comes to security, our French doors are built with security in mind and include a hook bolt locking system.
DESIGN AND MANUFACTURE
Our wooden French doors are crafted in traditional styles at our own factory which is close to Edinburgh at Broxburn. All our timber is sourced from renewable sources and our skilled craftsmen use traditional manufacturing methods which ensure that your French doors will last a long time. You are welcome to visit us at our factory.
Illingworth Brothers - Wooden French Doors - Worth Choosing
CALL US - 0131 623 7303
If you have any queries on any of our services, one of our experts will be happy to talk to you and can answer any of your questions.
VISIT OUR FACTORY
Why visit costly staged showrooms when you can visit our factory to see your consistent outstanding quality products being made by our careful & experienced tradesmen for yourself.
ECO FRIENDLY
All the timber that we use is sourced from "Sustainable Forestry". More trees are planted than are used. Our glass is low emissivity (Low E) argon filled keeping the heat inside and the cold outside. Using warm edge technology which offers the lowest u values in the market today.